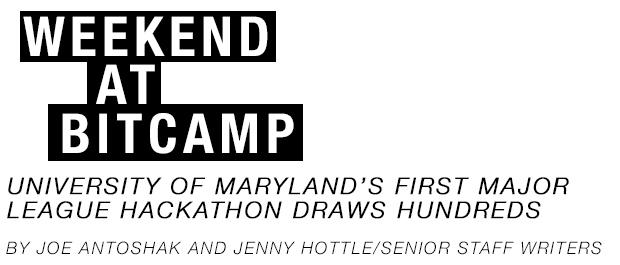 Daniel Noskin stared at a spiral-bound sketchpad, twisting a pencil in his hand as he reviewed the interface design of his team's project.
Empty cans of Mountain Dew and Monster littered his squad's workplace. He and teammate Jackson Geller, a freshman computer science major, were planning to build Snapdio, a music equivalent to Snapchat, through which users would be able send friends short song clips.
At about 12:30 a.m. Saturday, Noskin, a senior management and marketing major, was settling in at Cole Field House for Bitcamp, this university's first-ever Major League Hacking event. Students from universities across the country came to the campus Friday to spend 36 hours building applications, gadgets and modifications.
"No one sleeps at these things," Noskin said. "I mean, can you imagine sleeping here?"
Rows of tables cluttered with tangled power cords, empty coffee cups and used paper plates lined the former basketball arena's floor. The low drone of conversation from the nearly 750 hackers in attendance meshed with music playing quietly in the background. Hundreds of pairs of eyes squinted at computer screens.
Though Noskin had never been to a hackathon before Bitcamp, he seemed to have no problem getting comfortable. He reclined in his folding chair while explaining the app, with his bare feet sticking out from under the table.
Bitcamp, which began at about 9:15 p.m. Friday and continued until about 9:10 a.m. Sunday, mixed rookies like Noskin with hackathon veterans. Some, such as Raj Vir, a junior computer science and entrepreneurship major from the University of Michigan, said they'd been to a dozen or more.
Bitcamp was the first hackathon Vir had attended in about a year. He said it was Bitcamp's ties to virtual reality company Oculus VR, which university alumni co-founded, that attracted him to College Park.
"It's very clear that virtual reality is the way of the future," Vir said. "Like, you can fly. I've wanted to fly my whole life."
Alex Wissmann, one of Vir's teammates and a sophomore computer science major from the University of Pennsylvania, was drawn to Bitcamp for different reasons.
"Hackathons are just fun," Wissmann said.
The two connected over Facebook and have spent time together at previous hackathons — a living example of the collaboration events like these boast.
Major League Hacking ranks universities with a point system based on performance and attendance rates, but MLH officials said competition is secondary to the learning experience. At Bitcamp, organizers decided to get rid of a grand prize altogether, in favor of smaller categorical ones.
"Winning and losing is a side effect of participating," said Michael Gubbels, an event organizer and third-year graduate student in human-computer interaction at this university. "If I lose, I don't care, I just learned Javascript."
PHOTOS BY RACHEL GEORGE/THE DIAMONDBACK

Bitcamp was not organized overnight — it took months to put together. Groundwork was laid in October, when Shariq Hashme, a junior computer science and electrical engineering major, had an idea.
Terrapin Hackers, the club Hashme helped found over the summer, had just earned an unexpected win in the MLH regular-season standings. To finish in first place, students at this university spent weekends at hackathons as far away as the University of Michigan.
"Why not have one here?" Hashme thought.
In the months that followed, university students spent thousands of hours of volunteer time. And despite weeks of preparation, Bitcamp saw its share of obstacles.
On Friday, while Gubbels and fellow event organizer Josh Sheldon set up a fireside game of wooden blocks — the hackathon came complete with a fake campfire -— and other students added the final touches to workstations, the event's facilities manager, Jeremy Griffith, faced a dilemma: There weren't enough power resources.
At about 6:45 p.m., the junior electrical engineering major was weaving between rows of tables and ducking under chairs to check on powerstrips. By the end of the weekend, there had been no incidents, though the power, he said, was just one issue facing the organization during setup. Wi-Fi connection also was faulty.
According to Jonathan Davis, a freshman computer science major and event organizer who helped set up the network, workers spent nearly six hours wiring the arena, beginning at noon Friday.
Troubles arose after kick-off that evening, and some had trouble logging onto the Wi-Fi network and setting their own access points, an issue that only hampered Bitcamp's wireless capabilities. More than 100 people were using mobile hotspots at one point, said Daniel Eckert, a consultant for Drakontas Consulting, which helped set up the event's network.
But within two hours of the official start time, organizers had resolved the issue, said Josh Berenhaus, Bitcamp's press director.
Making sure nothing went wrong was a major undertaking for a person who had never attended a hackathon, Griffith said. But as he yelled into a walkie-talkie clipped to his shirt, he smiled and checked the time.
"We're good to go," he announced. "Soon, I'll be able to relax for a bit." 

For employers in the technology industry, hackathons like Bitcamp are among the best ways to find young talent in action. They're roughly the equivalent of the scouting combines collegiate football players attend to showcase their skills.
But unlike college football players, who are selected for professional football teams by way of a draft, tech prospects get to choose where they work. Because of that, companies looking for employees have to do their part to attract new employees.
On Friday, an electric bike company called Riide let participants coast around the floor of Cole on the motorized bike. Another company, a university start-up called Java Zen, had an employee make rounds with a hot coffee and tea-dispensing backpack in the early morning hours Sunday, offering a cup to anyone who wanted one.
"When I was their age, I couldn't do this stuff," said Mike Clark, a physical scientist at the Laboratory for Telecommunication Sciences. "I'm just happy I can be a small part of it."
At 60 years old, Clark gets around in a wheelchair outfitted with light-up wheels. He teaches at Carnegie Mellon University remotely, via an iPad attached to a wheeled stand several feet tall that he controls on his phone.
On Friday, he showed off the stand, gliding it up and down one side of the floor area and interacting with passersby while he sat in his wheelchair in one corner of the room. Some made an effort to get out of the robot's way, and many eyed his face, which was shown on the iPad's screen, with curiosity.
Later, Clark attracted another crowd with a quadcopter, which flew over the red chairs of one corner of the Cole's bowl. When explaining the mechanics of its flight, Clark's eyes widened from behind his glasses. It was the same look that could be seen on the faces of many of Bitcamp's hackers when asked to explain their projects.
"You look for passion, people who have a real interest in ways to solve a problem," Clark said.
On the other side of the arena, Microsoft representatives showed off Cortana, a not-yet released rival to Apple's Siri.
"Who's your daddy?" a Microsoft employee asked the program.
"Technically speaking, that'd be Bill Gates," Cortana replied. "No big deal."
PHOTOS BY JENNY HOTTLE/FOR THE DIAMONDBACK

Fans whirred in front of Oculus Rifts, Arduinos lit up and hackers in sleeping bags dozed off next to their tables at about 2 a.m. Sunday.
Noskin was sitting with Geller at their table, slouched over his laptop and scrolling through logo designs. Geller was pouring shots of a Starbucks Refresher. Most hackers at Bitcamp did sleep — some more than others. Geller got about nine hours of sleep the night before, and Noskin said he slept for four.
"No one wishes they slept more in college," Noskin said. "No one's going to wish they didn't stay up for a hackathon."
By 10 a.m., the start of the hackathon's expo, the duo had put the final touches on Snapdio, and they showed off the website's functionality by sending a sample of Pitbull's song "Timber" (featuring Kesha).
"I can't wait to start thinking clearly after getting a good night of sleep," Noskin said.
During the event's closing ceremonies, sponsors awarded 17 prizes, including three teams that won trips to Microsoft's headquarters in Seattle.
But for many students, the event was more about the experience of hacking than winning.
Friday night, sophomore electrical engineering major Juan Alonso was building a tower of blocks with freshman computer science major Pauline Chan near the fake fire pit. Alonso had attended his first hackathon, HackDuke from March 29 to March 30, and was excited for the networking opportunities and the chance to work on projects for sponsors at these kinds of events. But Bitcamp, he said, was more about developing skills.
"It's a nice environment to work in," Alonso said, adding he hadn't thought of a project idea yet. "I'm here to learn more." 
Senior staff writer Joe Antoshak is a sophomore journalism major covering science and technology. You can reach him at jantoshakdbk@gmail.com and follow him on Twitter at @Mantoshak.
Senior staff writer Jenny Hottle is a junior journalism major. You can reach her at jhottledbk@gmail.com and follow her on Twitter at @JennyHottle.